CREDIT REVOLVING AT ITS BEST
Quickfunds, the ultimate choice for business owners seeking credit revolving solutions. We redefine flexibility in accessing capital funding, offering you the freedom to secure up to one million dollars with a fixed loan term of up to 36 months.
It's crucial to highlight that Quickfunds stands apart from Merchant Cash Advances (MCA). We prioritize your best interests, ensuring that there are no hard credit pulls that could harm your credit score.
At Fundenomics, we recognize the uniqueness of every business. That's why we empower you to build a loan that precisely aligns with your specific needs. Whether you're expanding operations, investing in new equipment, or exploring growth opportunities, Quickfunds provides the unmatched flexibility required to accomplish your goals.
When you choose Quickfunds, you become part of a community that embraces Fundenomics – the belief that no business is too small to thrive. Our dedication lies in supporting your entrepreneurial journey by offering accessible and customized lending solutions that drive your success forward.
Embark on an unparalleled credit revolving experience with Quickfunds. Seize control of your business's financial future and unlock its full potential. Contact us today to explore how Quickfunds can fuel your growth and prosperity.
Here are a few of the features Quick Funds® offers
that set them apart from the competition:
With a minimum loan of just $5k, you can apply for a line of credit up to $1M
A 36-month amortization period with fixed weekly payments
There will be no hard credit pulls, so your credit score won't be affected
A line of credit can be paid off or paid down without penalty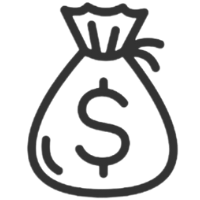 With no collateral required, you can access loan amounts up to $750,000
You can apply online and get funded in less than a week after approval
It is not a barrier to getting appproved if your credit is less than perfect
WE LOOK FORWARD TO
HEARING FROM YOU SOON
Your search for the loan company that you can trust ends with Fundenomics. We have the knowledge, skills, and experience to provide you with the kind of service that's second to none. Should you wish to learn more, please do not hesitate to reach out to us by phone or email. Our personable representatives are more than happy to attend to all of your inquiries. We look forward to being of service to you soon!
THE REWARDS
The upfront investment for a big project is usually high, which can't be financed by a merchant cash advance.
This year, go BIG with financing that works for you. Funding your big projects while keeping your costs low is now possible with up to $1,000,000 and 36-month terms.
The average loan size we provide is six times greater than a merchant cash advance, and the repayment terms are three times longer as well.
Loan amounts that are larger allow you to invest in profitable growth opportunities, and longer terms ensure your payments are manageable and won't impede your cash flow